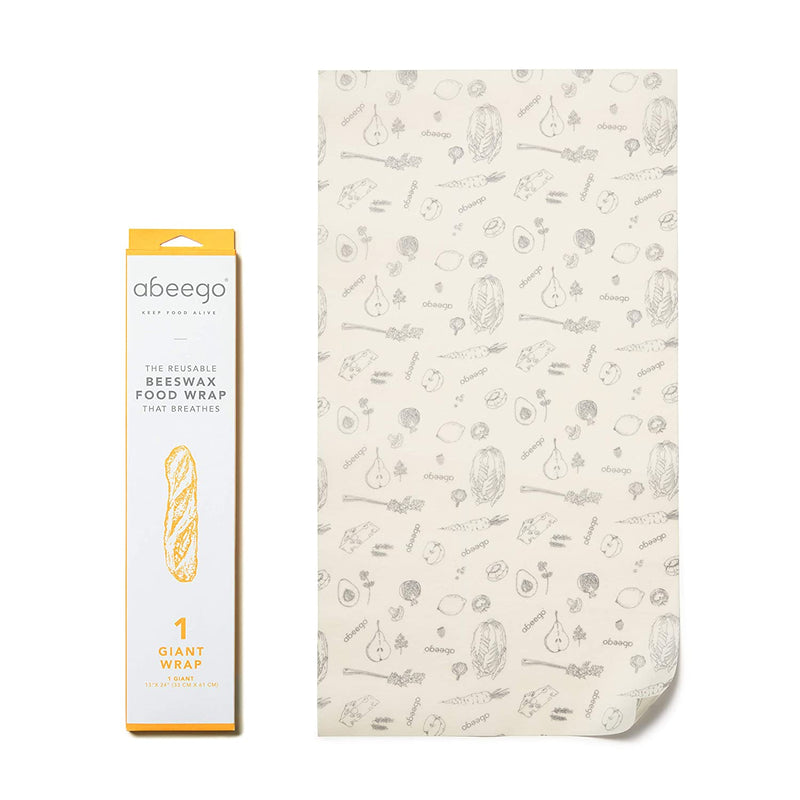 Abeego Beeswax Food Wrap 1 Wrap Giant 13 x 24" Sheet
These beeswax food storage wraps will keep your food fresh without having to use plastic wraps, aluminum foils, etc. They are self-adhesive and reusable. The package includes one 7" square, one 10" square, and one 13" square that are perfect for cheese, fruits, vegetables, bread and much more. Each sheet is beautifully handcrafted in Canada with all natural ingredients approved by the FDA for food.
Extend The Life Of Your Food
Abeego food sheets extend the life of your food. Our time-tested secret recipe optimally brings out the natural qualities of each ingredient we use. Each sheet is similar to many of the skins that surround your favourite fruits, vegetables, and cheeses, giving them protection while allowing them to breathe. Every ingredient used within Abeego comes from the earth, and will return to the earth.

Beeswax food wrap to extend the life of your fruits and veggies
Eliminate Plastic & Chemicals
Not only does Abeego extend the life of your favorite foods, but it also eliminates the need for disposable plastic alternatives. Abeego is self-adhesive, so it easily and convenientely covers various containers and dishes. With proper care, a single Abeego sheet can last for one year, which also saves you money!