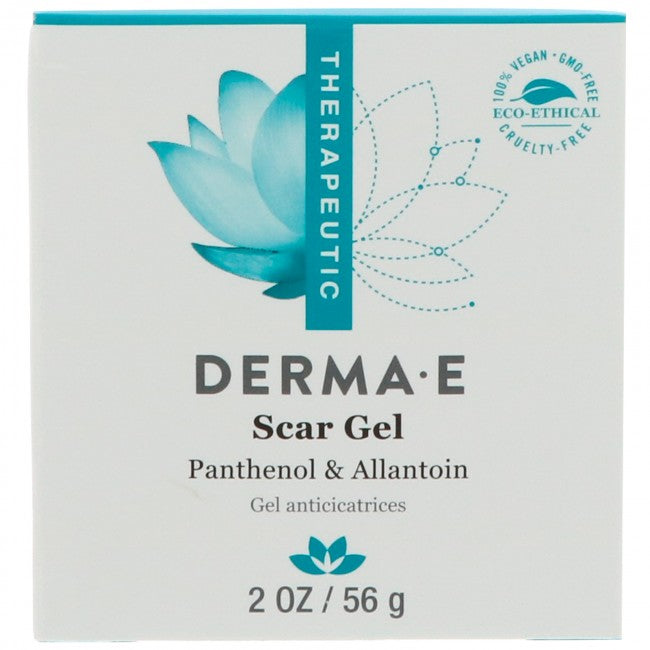 Derma E Scar Gel 56 g
This unique blend of botanical extracts helps soften, smooth, and diminish the appearance of scars, especially those that are lumpy, bumpy or discolored.

Enriched with Allicin (from onion bulb), Allantoin and Panthenol (Pro-Vitamin B5), this formula helps visibly break down scars and encourage healthy skin.

It is equally effective in resolving other skin hardenings. This non-oily, pleasant smelling formula will not stain clothes. 100% vegan, cruelty-free, paraben-free, sulfate-free, mineral oil-free, lanolin-free, gluten-free, GMO-free. Clinically proven to significantly improve scar texture, color and overall appearance, this gel softens, smoothes and encourages healthy skin. A

Natural Cure for Scars?

In an independent clinical test, derma e® Scar Gel was proven to significantly improve the look and feel of scars after only 4 weeks of regular use. And after 8 weeks, the results just kept getting better.
Ingredients: Purified water, panthenol (vitamin B5), glycerin (vegetable derived), allium cepa (onion) bulb extract, beta-alanine, allantoin, hydroxyethylcellulose, carbomer, phenoxyethanol, ethylhexylglycerin, fragrance.