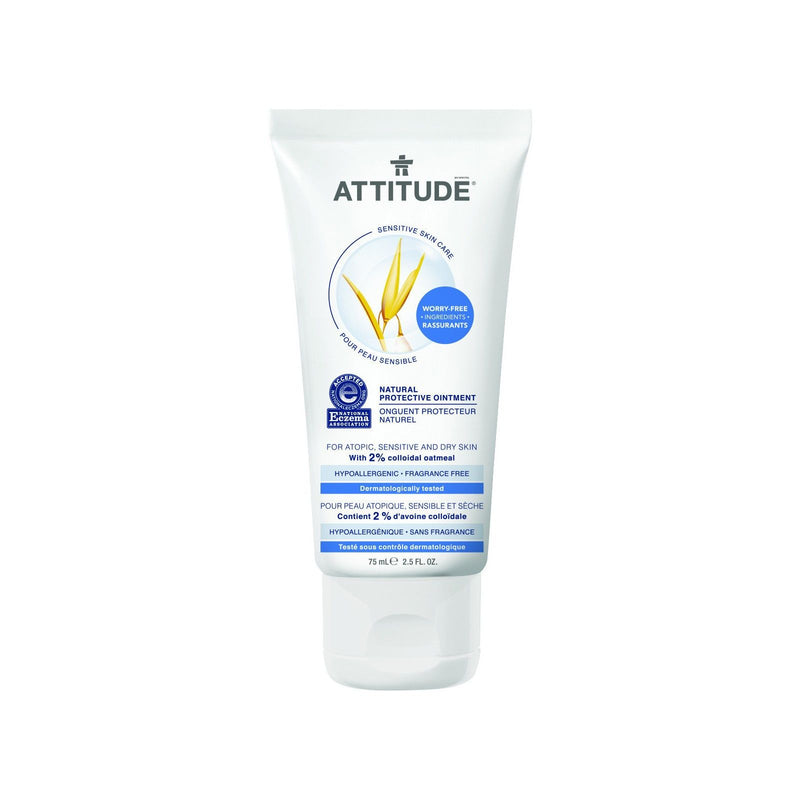 Attitude Natural Protective Ointment 75 ml
Ever heard we're 90% water? That's a myth. Human bodies are about 60% water — which is still a lot! While we may have lots of H2O inside, you want to limit your sensitive skin's exposure to it. That's why ATTITUDE's Sensitive Skin Natural Protective Ointment forms a waterproof, protective film to restore your skin's barrier by keeping good moisture in and irritating humidity out. We use plant- and mineral-based, hypoallergenic ingredients like calming colloidal oatmeal and oat oil to protect, soothe and hydrate skin even with repeated exposure to water. To be sure it's safe, we had the EWG VERIFIED™ formula dermatologist tested and certified by the National Eczema Association.
Our Natural Protective Ointment, composed of 2% colloidal oatmeal, forms a protective, waterproof barrier for areas that are the most sensitive to irritation and the most frequently exposed to water.

Fragrance-free.

Dermatologically tested, non-irritating and hypoallergenic.

This product is National Eczema Association certified and EWG (Environmental Working Group) VERIFIED™.

Colloidal oatmeal is known for its protective, soothing and hydrating properties.

Oat oil is known to lock in moisture by forming a physical barrier to epidermal water loss, preventing further drying.

Bisabolol is known for its soothing, regenerating and anti-inflammatory properties.

Shea butter is known for its hydrating and film-forming properties.

Free of potentially harmful preservatives such as phenoxyethanol, parabens, formaldehyde or formaldehyde-releasers, benzyl alcohol and MIT.
Ingredients:
Cocos nucifera (coconut) oil (emollient), Butyrospermum parkii (shea) butter (moisturizer), Ricinus communis (castor) seed oil (emollient), Hydrogenated soy polyglycerides (thickening agent), Avena sativa (oat) kernel flour (soothing agent), Avena sativa kernel oil (emollient), C15-C23 alkane (plant-based solvent), Bisabolol (soothing agent), Rosmarinus officinalis (rosemary) leaf extract (antioxidant), Helianthus annuus (sunflower) seed oil (emollient).