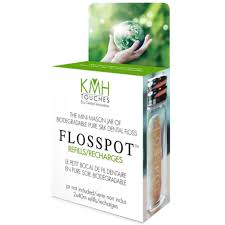 KMH Touches Flosspot Pure Silk Dental Floss Refills (2 Rolls x 40M)
FLOSSPOT™ is a mini mason jar filled with lab tested for purity, luxurious silk dental floss, lightly waxed for strength and ease of use between tight teeth. It is not flavoured because flavouring changes the lab results, which we do not want.
KMH holds a valid HEALTH CANADA Medical Device Establishment License – which holds us accountable to our customers, and to our Government's rigorous guidelines.