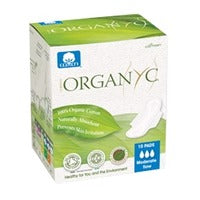 Day Cotton Pads, Folded with Wings (Moderate Flow) - 10 Count
Organyc is ideal for women who want to avoid any contact with synthetic materials on the skin and feel fresh' safe and clean' while choosing a hypoallergenic product without any negative effect on the environment.

Over 80% of women who react to contact with plastic and synthetic materials have reported that they prefer Cotton.

You will feel the benefits of cotton within the first month of use.

Product Highlights:
- With organic cotton.
- Naturally absorbent.
- Prevents skin irritation.
These statements have not been evaluated by the Food and Drug Administration (FDA). These products are not meant to diagnose treat or cure any disease or medical condition. Please consult your doctor before starting any exercise or nutritional supplement program or before using these or any product during pregnancy or if you have a serious medical condition.