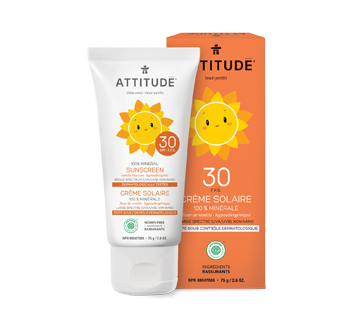 Attitude Mineral Sunscreen Vanilla Blossom SPF 30
Ever wondered what the difference between UVA and UVB sunlight is? UVA can burn deeply, and UVB more superficially. Fortunately, our newly EWG Verified™ Mineral Sunscreen forms a physical barrier that protects against both! ATTITUDE's Vanilla Blossom 100% Mineral Sunscreen SPF 30 uses worry-free, natural ingredients like non-nano zinc oxide for the safest possible sun care.
Easy to apply, smooth and non-whitening, it's never been easier to block the sun — not the fun! * Helps prevent sunburns. If used as directed with other sun protection measures (see directions), decreases the risk of skin cancer and early skin aging caused by the sun. All Attitude ingredients are free of cancer-causing contaminants, mutagens and endocrine disruptors.