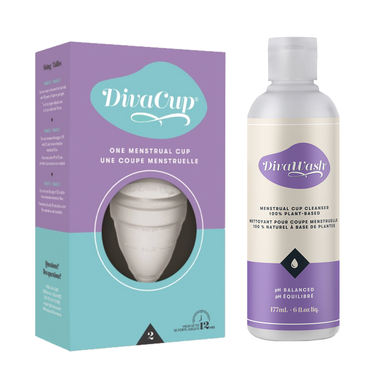 The DivaCup Model 2 & Wash Bundle
Designed for youth aged 13-18.

The DivaCup is a reusable, bell-shaped menstrual cup that is worn internally and sits low in the vaginal canal, collecting rather than absorbing your menstrual flow. Menstrual cups have existed since the 1930s when women were searching for an alternative to the choices of the time. Yet, its breakthrough into the feminine hygiene industry is much more recent.
The DivaCup empowers women to connect with their bodies and menstrual cycles like never before.  Many women feel uneasy about changing their menstrual care routine. Years of dealing with the sights and odours of disposable tampons and pads cause the familiar reaction: "ick!".  Perfect for all activities (on air, land or sea), the DivaCup is easy to use and makes for a better period experience. 
Join women worldwide by switching to the DivaCup today!
Bundle Includes:
The DivaCup - Model 0/Youth
DivaWash Menstrual Cup Cleanser - 177 mL
DivaCup Model 0 Details:
12 hour leak-free protection!
Made from the highest quality healthcare grade silicone to assure comfort and durability
Does not contain any of the following: latex, plastic, PVC, acrylic, acrylate, BPA, phthalate, elastomer, polyethylene, and free of colors and dyes
Reusable and eco-friendly – no waste, no chemicals
Features extra grip ridges for easier removal
Cleared for marketing by the US FDA and the Australian TGA and the only reusable menstrual cup allowed to be sold in Canada by Health Canada
Diva International Inc. is the only ISO 13485:2003 certified menstrual cup manufacturer and head office in the world!
Cleanser Details:
To ensure the integrity of The DivaCup and your body, the people at DivaCup created DivaWash, a botanically-based, all natural cleanser specifically designed to protect the silicone material of The DivaCup – and your body. The gentle formula leaves your body clean, soft and never dry and can even be used by the whole family as a daily facial cleanser and shower or bath gel.
Features:
Please Note: DivaWash is designed to be used externally and to wash The DivaCup. It is not intended to be used as a douching agent.
Naturally pH balanced.
Gentle, fragrance-free formula makes it ideal for sensitive skin.
Concentrated formula that helps to reduce our eco-footprint.
Made of 100% plant-based ingredients.
Manufactured with no animal testing or animal ingredients.
Safe for your body with no added parabens, sulfates or petrochemicals.
Ingredients:
Water, [cocamidopropyl betain, decyl polyglucose, sodium cocoyl isethionate] (coconut derived ingredients)], vegetable glycerin, caprylic/capric triglyceride, tocopherol acetate (vitamin E derived from soy), ascorbic acid (vitamin C), retinyl palmitate (vitamin A), citrus officinalis (grapefruit seed extract – natural preservative and antimicrobial), xanthan gum, citric acid (pH balancer), citrus sinensis (sweet orange essential oil).